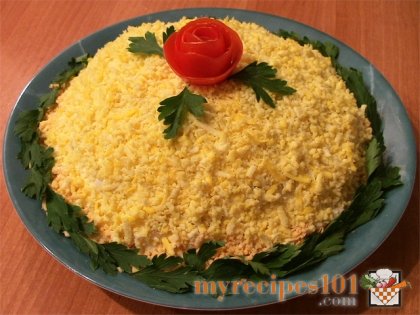 Recipe Ingredients
7 oz fish canned in oil (saury is the best)
2 potatoes
2 carrots
2 onions
4 eggs
salt
mayonnaise
Preparation
Bake the potato, carrot and eggs. Cool and peel.
Mince the onion.
Add boiling water and leave for 10 minutes. Then drain the water.
Grate the carrot on a small grater.
Grate the potatoes on a small grater.
Separate whites from yolks. Grate the whites on a small grater separately.
Yolks – separately.
Drain oil from fish and mash fish with a fork.
Place the fish on the bottom of a plate (I used a soup plate that is 9" in diameter). Add mayonnaise.
Place whites on the fish and grease with a little bit of mayonnaise.
Place carrots on whites and add mayonnaise.
Place onion on carrots.
Place potatoes on the onion, add a little bit of salt and add mayonnaise.
Place potatoes on yolks. Do not grease with anything. Decorate the salad to taste. I decorated with greens and rose out of tomato. To make the rose, read here: http://forum.say7.info/topic366.html Tomato roses.
This is the salad's sectional view.
Bon appétit!